Karen Paxman and Tayla Harris played key roles in leading Melbourne to an AFLW 64 points against the Western Bulldogs.
Key points:
The Demons defeated the Bulldogs 10.13 (73) to 1.3 (9)
The Magpies triumphed 6.10 (46) to 2.2 (14) over the Giants
The Cats picked up a 6.7 (43) to 4.4 (28) win over the Bombers
Paxman was instrumental early on but had to undergo a concussion test after a nasty clash of heads with teammate Lauren Pearce moments before halftime at Casey Fields on Sunday.
The experienced midfielder recovered and finished with 19 eliminations in the Demons 10.13 (73) to 1.3 (9) win.
Harris scored two goals from 14 eliminations and held off in-form Bulldog Alice Edmonds when moved into the ruck after halftime, with first-choice ruck Pearce sidelined.
Olivia Purcell (25 eliminations), Eliza West (24 eliminations, one goal) and Alyssa Bannan (three goals) were also influential for the Demons.
The result put Melbourne level in wins with top teams Brisbane and Adelaide – as well as fourth-placed Collingwood – and gave the Demons a huge percentage increase from 166.0 to 201.2.
The loss could be disastrous for the Bulldogs, who have now slipped outside the top eight in percentage and lost Elisabeth Georgostathis to a hamstring injury late in the game.
Ellie Blackburn became the seventh AFLW player to reach 1,000 career eliminations, racking up a total of 18 for the Bulldogs.
But the Bulldogs captain lacked support in a well-beaten midfield unit, with Melbourne dominating territory and winning the inside 50 count in a landslide (40-12).
The Demons also took 19 marks inside 50 against the Bulldogs' three.
Magpies too strong for giants
Collingwood overcame its own wastefulness to overtake GWS by 32 points and cement its place in the top four in skipper Steph Chiocci's 50th AFLW game.
The Magpies crushed the Giants around the contest, but their inaccuracy kept the game alive until they retired in the second half to win 6.10 (46) to 2.2 (14).
The win keeps Collingwood level with Brisbane, Adelaide and Melbourne on 24 points – only behind the top three in percentage – and a full game without Geelong and Richmond.
GWS had a rushing sole behind until Jodie Hicks scored five minutes in the fourth term and youngster Brodee Mowbray added another in the final minute.
The Collingwood midfielder gloated in Alison Downie's ruck dominance, with Jaimee Lambert (23 eliminations) starring.
Lambert was well supported by Jordyn Allen (19 assignments, eight points) and Chloe Molloy put in a typically eye-catching performance, scoring two goals.
GWS weapon Alyce Parker (20 eliminations, eight clearances) worked her way into the game, while Tarni Evans and Katherine Smith worked hard and skipper Alicia Eva (16 eliminations, eight tackles) was tireless.
Cats shoot down bombers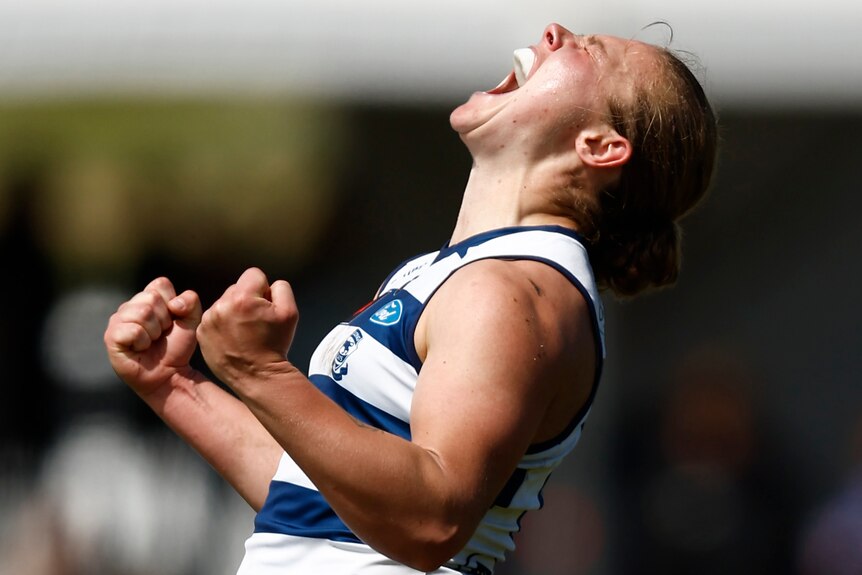 Geelong are heading to their first AFLW Finals appearance after all but snuffing out Essendon's dim hopes of a top-eight finish with a 15-point victory over the Bombers at Warrnambool.
Cats striker Chloe Scheer scored three goals – including two at the start of last term – as Geelong held off a masterclass from Maddy Prespakis to win 6.7 (43) to 4.4 (28).
It was the first time the Cats had won three games on the rebound in their AFLW history.
The Bombers – who dominated the Cats in clearances and in the 50s – were left behind for inefficiency going forward.
The Cats are now 20 points away from fifth on the ladder, while the Bombers (eight points) have two wins outside of the playoffs with three rounds remaining.
Prespakis racked up totals of 37 kills, 10 clearances, 23 contested possessions and 387 yards gained for the Bombers.
Bombers co-captain Bonnie Toogood and forward Paige Scott each scored two goals and constantly threatened.
The Cats were without Prespakis' younger sister, Georgie, suspended, but Amy McDonald (25 eliminations, 12 tackles) was generally prolific, despite a nasty gash to the head.
Meanwhile, Cats skipper Meg McDonald organized a disciplined defense to help her team cement their top-eight position.
AAP